October 17, 2022

FoxSeo

2
When do Tulips in UK Bloom? ✅
What You Read in This Article:
Hide
Hello to all Plant lovers all over the world hope you are all doing fine and staying safe. Today in this topic we are going to talk about Tulips in UK, if I want to be more specific, we are going to talk about when Tulips bloom in UK.
Tulips, vibrant bulbs in various colors, are a must-have for spring. They add color to borders in April and May and thrive in pots, making spring a vibrant season.
For more topics about Tulips you can visit Apartmentflowers, you can also check these for more information, GROWING TULIPS IN GLASS VASES INDOORS✅ and  HOW TO CARE FOR TULIPS BULBS IN A VASE⭐
Tulips in UK blooming time
Well before answering this question, I want to highlight a problem that most gardeners or online shops who sell Tulips, don't talk about it often.
Tulips flower in mid to late spring and they bloom best between April and May and their bloom may last 7 to 10 days.
If you are keeping Tulips in UK, bear in mind that Tulips don't make great perennials and they are usually grow is annuals.
In an other words, they will be good only for one year and after that you should not expect much from them.
The reason is, Tulips are not native to UK and their natural places or we can say mother lands are places with extreme temperatures like colder winters and hotter summers.
The bloom of the Tulips will be great during the first spring after planting, but in year two Tulips in Uk will be much smaller with weak stems and little blooms, you may not see them alive in year 3.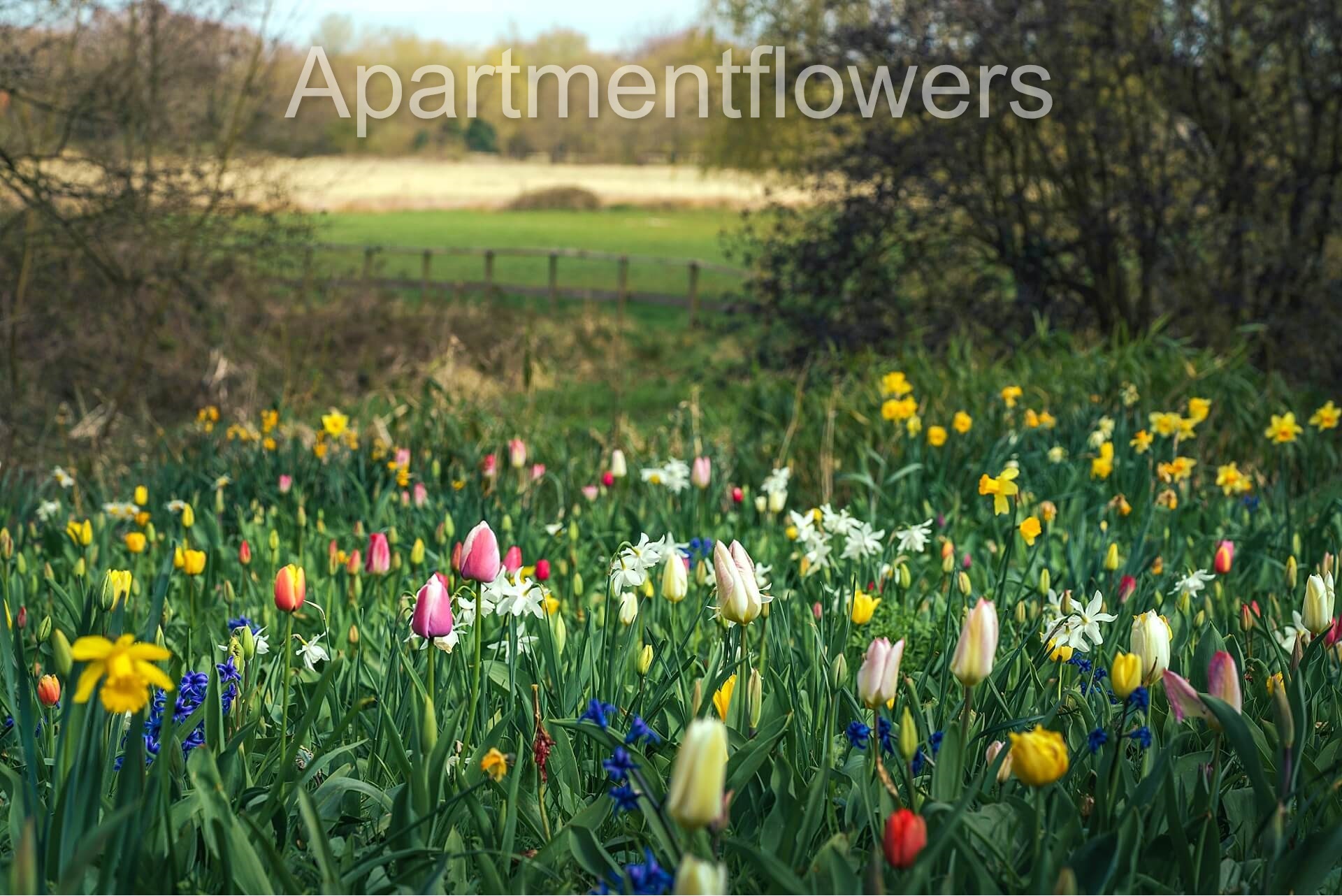 How to grow tulips
To ensure optimal tulip bulb growth, plant them in moist, well-drained soil in a sunny spot between mid- to late autumn, with bulbs planted at least three times the bulb's depth, and fresh bulbs planted each autumn.
More on growing tulips:
Early-flowering tulips to grow
Nine late-flowering tulips to grow
Parrot and fringed tulips to grow
What to grow with tulips
Five stunning tulip combinations
Jump to:
Where to grow tulips
How to plant tulips
How to propagate tulips
Tulip problem-solving
Buying tulips
Tulip types and flowering times
Tulips by colour
Some Common Questions About Tulips:
Best place to plant Tulips:
Tulips like sunny spots and of course good drainage, and they need to be protected from harsh winds which it might break them
Soil Condition for Tulips:
Every tulips even tulips in UK, prefer nutrient rich soil that's free draining. If you overwater them their bulbs may rot or suffer some diseases.
If needed consider using adding organic matter or grit to improve the soil for better results.
After you planted the bulbs add some good quality compost or other organic matter, you can repeat it once a year in the autumn.
Good watering is needed after you first planted to help the bulbs to settle in, but after that be sure to water them enough and avoid too much or too low watering, pay extra attention in drought times.
Are Tulips Toxic to animals?
Tulips are Toxic to cats, dogs and horses, so if you are keeping these animals be sure to not let them near Tulips so they don't kill your plant and make themselves sick at the same time.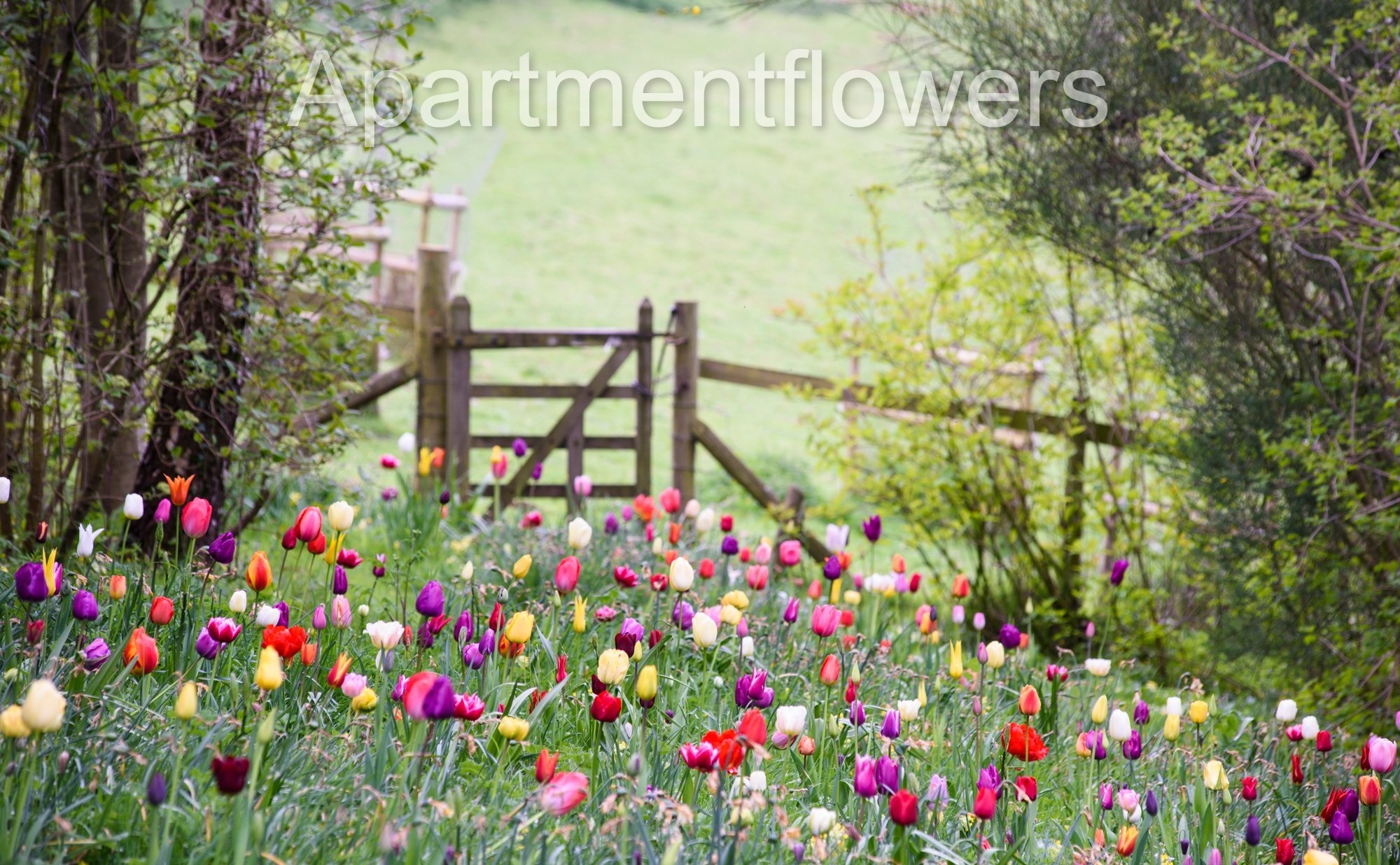 Caring for Tulips in UK After They Have Bloomed
As we said before, due to the UK`s weather condition which is far from ideal and mostly good for one year or at most two years.
But If you  want to grow Tulips as perennials in the UK, here are some steps that will help you:
Remove the Tulips flower after it completely bloomed to divert energy to the bulb
Leave the stem as much as you can in place, because it also helps to send energy to the bulb
Because the foliage sends energy back to the bulb to prepare it for the dormant season, pay attention so that you don't cut back the foliage until discoursing happens and you can easily pull it away from the foliage.
There is a diseased called "Tulip Fire", watch out for them, if you found any remove and burn the diseases tulip.
In autumn, spread over the soil with a couple of inches of organic material.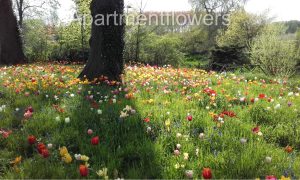 Common problems about Tulips in UK
Short Tulips
If you plant tulips too late in autumn or if you plant tulips in UK after the first year of planting because of the climate of the UK, your tulips can be short.
Why are they not flowering?
As we discussed before, it is because of the UK`s weather and it is very common for tulips to not flower after the first year.
But if they are not flowering in the first year, it might be because of these reasons:
Not enough sunlight
Bad soil and lack of nutrients
Underwatering them
Drooping Tulips
Not enough water can be the first reason
Rotted Bulbs
It might be because of the overwatering the plant and too wet soil
| | Jan | Feb | Mar | Apr | May | Jun | Jul | Aug | Sep | Oct | Nov | Dec |
| --- | --- | --- | --- | --- | --- | --- | --- | --- | --- | --- | --- | --- |
| Plant | | | | | | | | | | | yes | |
| Flowers | | | | yes | yes | | | | | | | |
| Cut back | | | | | | yes | yes | | | | | |