September 7, 2023

Carol Klein

0
Christmas cactus not growing new leaves
What You Read in This Article:
Hide
The Christmas Cactus is a popular houseplant sold during the holidays, often found in stores from October to December.
Taking care of and propagating Christmas Cactus is easy and beautiful. After enjoying their beauty, you might decide to grow them in numbers, as they grow larger and more impressively each year.
To care for your holiday houseplant, consider not only selecting the ideal spot, watering, and applying fertilizer, but also addressing potential problems that may arise during its growth.
Christmas Cactus problems often stem from excessive sunlight, excessive water, high temperatures, and insufficient humidity, which can be addressed by ensuring proper care and care.
This text provides information on common Christmas Cactus problems and their solutions, aimed at those who are unsure of how to prevent or treat these issues or are currently facing them.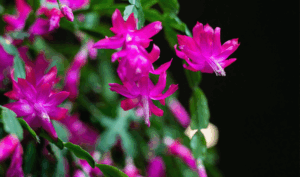 CHRISTMAS CACTUS PROBLEMS
WHY IS MY CHRISTMAS CACTUS LIMP? If your Christmas Cactus becomes limp, it may indicate that the soil is too wet or the plant needs repotted, requiring the replacement of the soil with fresh new soil.
Remove the limp plant from the planter and then gently remove the soil from the roots. Once you've done that you can then transplant your plant in the new soil and a slightly larger pot, if need be.
To prevent future or initial issues, mix your own potting soil for repotting by adding two parts potting soil to one part vermiculite or sand, ensuring good quality and preventing future issues.
Repotting your plant every two to three years can prevent it from becoming limp.
WHY DID MY CHRISTMAS CACTUS LEAVES TURN RED (OR PINK)?
Stress can cause your Christmas Cactus to turn red or pink, especially if it's exposed to direct sunlight or lacks adequate water.
The Christmas Cactus, unlike desert cacti, thrives in partial shade in warm seasons and full sunlight in winter, unlike desert plants that thrive in extreme heat and drought.
If a cactus develops red foliage but appears healthy, adjust its light exposure and soil moisture level. If necessary, move it to a shadier spot. Avoid letting the plant dry out for extended periods, as this can cause stress and turn the plant pink or red.
WHY IS MY CHRISTMAS CACTUS TURNING BROWN?
When your Christmas Cactus turns brown, it indicates root rot, a disease caused by poor drainage or excessive watering, requiring immediate attention.
To detect root rot in a cactus, remove it from its pot and examine its roots. If the roots are brown or black, smell musty, or appear musty, it's likely that the plant has developed root rot.
To revive a plant, cut affected roots without destroying the root system, remove affected areas, and transfer the plant to a clean pot with fresh potting mix.
To prevent watering your Christmas Cactus, ensure the top two to three inches are moist, only water when the soil feels dry or the leaves appear wrinkly and flat.
WHY DO CHRISTMAS CACTUS LEAVES FALL OFF?
The fall of your Christmas Cactus leaves can be caused by various factors such as improper watering, poorly draining soil, intense light, excessive heat, or cold temperatures.
Water your Christmas Cactus weekly or when the top 1 inch of soil feels dry, using a well-draining mix of 75 percent good quality potting soil and 25 percent perlite. Use a mix that feels dry in the top 1 inch.
Maintain the cactus's living area's temperature and avoid direct sunlight, especially during summer, to prevent it from wilting.
WHY IS MY CHRISTMAS CACTUS NOT GROWING?
To maintain the health and vitality of your cactus, it may be necessary to stimulate its root growth if it is slow or non-existent.
To promote the growth of the Christmas Cactus, repot it in a smaller pot with drainage holes at the bottom and a pot that can accommodate the cactus' roots' width and depth, ensuring the new pot is large enough.
The Christmas Cactus thrives in smaller pots and root bound ones, as it tends to perform better and flourish more effectively.
Mix a gallon of water with a teaspoon of Epsom salt between April and September to fertilize plants with Magnesium, promoting new foliage growth and providing essential nutrients.
HOW DO I KNOW IF MY CHRISTMAS CACTUS IS DYING?
If your Christmas Cactus appears limp or wilted, it may be indicating its potential death due to excessive water, too little water, or direct sunlight.
HOW DO YOU REVIVE A DYING CHRISTMAS CACTUS?
Relocate your Christmas Cactus to a shaded area and revive it by repotting it in a fresh pot filled with fresh soil.
WHY IS MY CHRISTMAS CACTUS NOT BLOOMING?
Environmental stress can cause your Christmas Cactus to cease its blooming, as red hues may indicate excessive sun or insufficient water and humidity, affecting the plant's overall health.
If the plant is not blooming, you can induce it into dormancy and encourage it to flower by:
To ensure a successful Christmas Cactus, place it in a dark area with 12-14 hours of light daily for six to eight weeks, reduce its light exposure, reduce watering to maintain soil moisture, and maintain a temperature of 50-65 degrees for the plant. Water only the top part of the plant if necessary.
Taking care of your Christmas Cactus is rewarding, as it brings you beautiful blooms. If you handle potential issues, you can expect a healthy, fully blooming Christmas Cactus during the holidays.
More articles on Christmas cactus:
When to stop watering Christmas cactus?
How to grow a bigger Christmas cactus?