October 14, 2023

Carol Klein

0
Do peace lilies like coffee grounds?
What You Read in This Article:
Hide
Peace lilies are versatile houseplants that can be cared for using unconventional methods like coffee grounds, which are known for their potential as fertilizer, especially when used as a natural fertilizer.
Coffee grounds are beneficial for peace lilies due to their high nutrient content and acidic nature. They can be used as a fertilizer, reducing soil pH, and even repel indoor pets like cats. Additionally, they can help reverse leaf browning on peace lilies.
This article explores the benefits of coffee grounds for Peace lilies and provides information on the appropriate amount and frequency of coffee grounds usage for optimal results.
What's in Coffee Grounds That Benefits the Peace Lily?
Recently, I discussed homemade fertilizers and composts for houseplants. These methods ensure plants receive the correct nutrient ratio, are cost-effective, and are enjoyable to make. I also recommend using homemade fertilizers and composts for their fun and convenience.
Coffee grounds are a popular choice for naturally augmenting houseplants, including peace lilies, due to their ability to provide a natural and attractive look.
Nutrients
Old coffee grounds are a valuable source of nitrogen, a crucial nutrient for houseplants, especially peace lilies. They provide a mix of nitrogen, phosphorous, and potassium, making them an eco-friendly alternative to commercial fertilizer.
Organic Matter
Coffee grounds not only provide nutrient content but also organic materials to your peace lily's soil, aiding in increased aeration, water retention, and improved drainage, thus enhancing its growth.
Acidity 
This blog post discusses pH changes in plant soil, highlighting that houseplants' soil can be either acidic or alkaline, also known as basic, and can be affected by various factors.
Different houseplants can thrive in acidic or higher alkalinity soil, while others may die.
Coffee grounds can enhance the acidity of your peace lily, but not all are effective. Unwashed grounds are recommended due to their higher acidity.
To ensure optimal results, it is recommended to add the fresh grounds to the soil immediately, as the acidity of the fresher grounds increases.
Peace lilies thrive in acidic soil with a pH of 5.8 to 6.5, making coffee grounds an ideal choice for their cultivation.
Microorganisms 
Earthworms are beneficial microorganisms that consume organic matter as it decays and aid in aeration in houseplants. They can be introduced to indoor gardens through compost containing organic materials and leaf litter. While some indoor gardeners may not like the idea of live bugs in their home, earthworms can be beneficial if they can tolerate them. While peace lily can live without earthworms, there are plenty of substitutes available. If you can stomach them, they can be a valuable addition to your indoor garden, providing a healthy and nutrient-rich environment for your plants.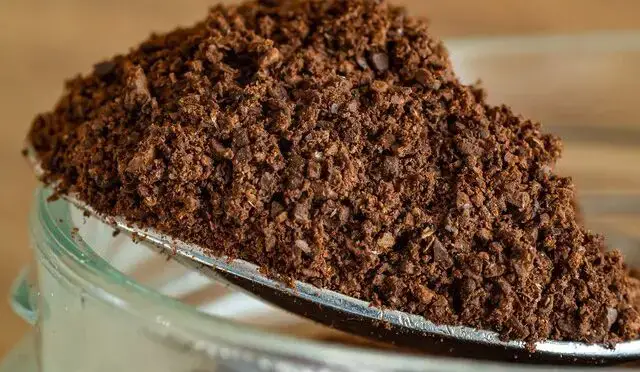 How Can You Use Coffee Grounds for Peace Lilies?
Understanding the love for coffee grounds among peace lilies encourages you to continue feeding them to this flowering houseplant.
Use as a Fertilizer 
Coffee grounds are an excellent natural fertilizer for peace lily plants due to their high nutrient content, ability to maintain soil acidity, and prevent waterlogging, making it an ideal choice for maintaining the plant's health.
Coffee ground fertilizer is a slow-releasing option compared to other fertilizers, allowing for gradual infusion of nutrients into the soil rather than immediately infusing the peace lily with nutrients.
The benefits of using coffee grounds with your peace lily should be noticeable within two to four months, despite potential variables.
To create your own fertilizer, hold onto coffee grounds while sipping, or buy them from the store and use them without having used them.
Spread a thin layer of the ground onto the peace lily's soil, allowing the fertilizer to seep deeper into the soil, benefiting the peace lily as it grows with future watering.
Use to Keep Pets Away
Peace lilies, also known as Spathiphyllum, are beautiful plants but toxic to cats and dogs. Dogs can experience inflammatory reactions, while cats may experience stomach upset and mouth irritation. To prevent cats from accessing the plant, move it out of reach, but cats can climb and jump, making it harder to prevent them from reaching the indoor garden. Coffee grounds atop the soil can stop cats, and mothballs can be combined to discourage them from munching on the peace lily or other indoor plants.
Reverse Leaf Browning 
On the Dave's Garden forum, a poster reported brown and yellow leaves on his peace lily, affecting only the tips. Another indoor gardening enthusiast mentioned a person who regularly fed coffee grounds to the peace lily, resulting in its excellent condition. Both issues highlight the potential for improvement in gardening.
Coffee grounds can help reverse peace lily leaf browning and discoloration, but it depends on the cause. Overwatering can cause leaves to turn brown or yellow, while underwatering can cause sagging. To avoid this, water the plant weekly, keeping the soil moist but not soaking. Overexposure to sunlight, incorrect fertilizer type, and heavy nutrient concentration can also cause leaf browning. Coffee grounds can reverse fertilizer-related issues but not those caused by improper lighting and watering habits. It's crucial to identify the root cause of leaf browning before using coffee grounds as a cure-all.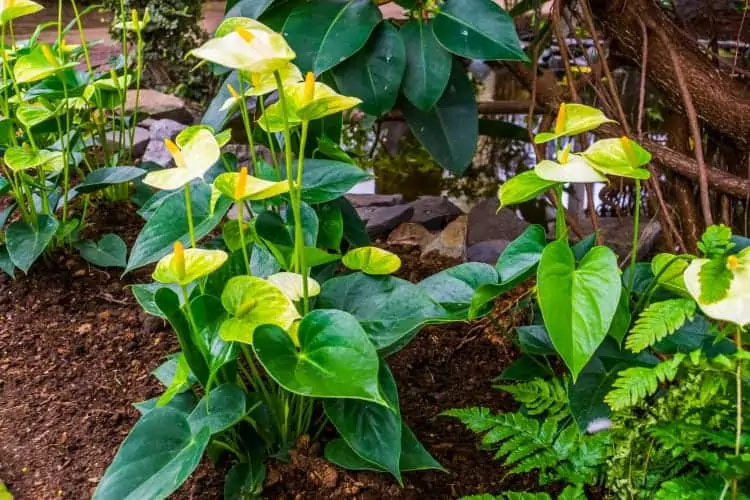 How Much Coffee Should You Add to Your Peace Lily?
You have saved coffee grounds for your peace lily but are unsure if you have enough or not. To avoid harming the plant, use a pot of coffee grounds for your morning brew. Start with about a pot of grounds and gradually add more as needed. If this is your first time, start slow and observe the plant's reaction before adding more if necessary. Remember to avoid nutrient deficiency and damage to the plant.
How Often Should You Fertilize Your Peace Lily with Coffee Grounds?
The frequency of fertilization, similar to the quantity of coffee grounds used as a peace lily fertilizer, is equally crucial.
Indoor gardeners vary in their coffee grounds application methods, with some adding a small amount monthly and others more frequently. This is due to the varying requirements of each peace lily during its growing and dormant phases. To determine the best method, it is recommended to monitor the peace lily's growth every two months after applying the coffee grounds. Fertilizing on a six-week basis in winter will position the plant for a healthy spring and summer, the plant's natural growing season. This allows for informed decisions about the best approach for your peace lily.
Can You Use Other Natural Fertilizers for the Peace Lily? 
If you're not a coffee drinker, you can still create homemade fertilizers instead of relying on store-bought options.
Vegetable Peel Fertilizer
This green fertilizer uses peelings from fruits and vegetables to create a liquid fertilizer for your peace lily's pot. Gather the skins and peels from your healthy diet and store them. Blend the ingredients in a food processor or blender to create the liquid fertilizer. Pour the liquid fertilizer into your peace lily's pot and use it for other houseplants. However, don't store the peels for too long as fermentation can render them useless. If you smell the peels and detect an alcohol odor, they may have already fermented, so avoid using them. Fermenting peels can cause headaches and problems for your peace lily, so save new peels if they appear fermented.
Grass Clippings Fertilizer 
Grass clippings are a potent natural fertilizer, providing essential nutrients like phosphorus, potassium, and nitrogen for peace lily growth, and other green materials can also be used.
To fertilize grass clippings, mix equal amounts of water with the grass and stir occasionally for three days. Strain the remaining grass through a sieve to create a liquid fertilizer. Use this fertilizer every two to three months, but only once a year, as it only lasts two days. This method requires remaking the fertilizer each time, as it only lasts for two days.
Did you know why the leaves of your lily of the valley turn brown or black?
What benefits do grass clippings provide if returned to the lawn?
Grass clippings returned to the lawn provide up to 25 percent of your lawn's total fertilizer needs. Clippings contain about 4 percent nitrogen, 2 percent potassium and 1 percent phosphorus. While decomposing, they also serve indirectly as a food source for the bacteria in the soil, which are doing many beneficial things (such as decomposing thatch) for a healthy turf environment.
Grass should be mowed tall and clippings should be returned to the lawn to produce a healthy lawn. Set your mower at a tall setting so clippings easily fall into the lawn. For cool-season grasses, set your mower at 2-1/2 to 3-1/2 inches, and for warm-season grasses use a setting from 1-1/2 to 2-1/2 inches. Mow frequently so you remove no more than one-third (about 1 inch) of the total plant height.