September 12, 2023

Carol Klein

0
Do you water a Christmas cactus from the top or bottom?
What You Read in This Article:
Hide
The Christmas cactus is a popular winter-flowering houseplant, known for its pink or lilac tubular flowers. Its beautiful, long blooming period, and easy-to-care-for nature make it a popular choice for indoor settings.
Understanding a plant's needs, such as the water requirements for a Christmas cactus, is crucial for its health and proper blooming.
The Christmas cactus (Schlumbergera bridgesii) is a tropical cactus native to Brazil's rain forests, primarily grown as a houseplant in the U.S., but can also be grown outdoors in hardiness zones 10 or warmer, unlike other cacti from hot, dry climates.
How Much Water Does a Christmas Cactus Need

?
This tropical holiday cactus necessitates frequent, thorough watering during its active growth in spring and summer, as well as during flowering.
Insufficient water can cause a Christmas cactus to wilt and drop its flower buds, so it's crucial to maintain evenly moist soil during buds formation for growth.
Overwatering can lead to white rot spots on leaves, potentially causing them to fall off.
The rule of thumb is that less water is better than too much water.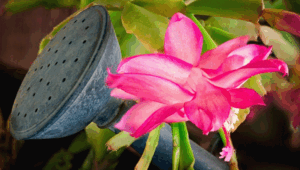 When To Water Your Christmas Cactus?
Water your Christmas cactus when the soil top feels dry, ensuring to feel it with your fingers.
Watering should be done when the top soil feels dry to the touch, allowing the soil to partially dry between intervals.
Watering your Christmas cactus depends on its climate, whether it's grown outdoors or indoors, and the season.
Factor 1: Outdoors vs Indoors

If your plant is kept outdoors or near a window in hot, dry conditions, it may require watering every two to three days, especially if it receives direct sunlight.
If your holiday cactus is kept indoors in cool or humid conditions with indirect light, it may only require weekly watering.
Factor 2: Time of the Year
Your watering schedule should be adjusted annually.
In the fall and winter, it is recommended to water plants more sparingly to encourage blooming.
In October, cease watering completely, and in November, gently water your cactus plant.
After your epiphytic cactus begins blooming, it's best to stop watering for about 6 weeks to allow the plant to rest. After this, watering should resume once a week to ensure new growth emerges.
When to bring in Christmas cactus from outside?
How to Water Your Christmas Cactus?

Water as soon as the top inch of soil in the container feels dry to the touch.
To water your plant, soak the soil thoroughly until water runs through the pot's drainage holes.
Discard any water in the tray so the plant doesn't sit in water.
Before attempting to water the plant again, check to see that the top inch of soil has dried thoroughly to prevent root rot.
Mist leaves as well as watering the soil.
To avoid problems with fungus, avoid overhead watering.
How to grow Christmas cactus from cuttings in water?
How Often Should I Water a Christmas Cactus?
Overwatering Christmas cactus can cause fungal diseases like white rot, which can be detected by white spots on the leaves.
Overwatering can lead to the loss of buds and leaves in plants.
Avoid overwatering your plant and ensure it doesn't sit in water for extended periods.
To address overwatering issues, remove infected areas, repot in clean soil, reduce watering frequency, and add fertilizer to the pot.
Underwatering a Christmas cactus can cause it to wilt and drop its flower buds, as it cannot withstand complete dryness in soil unlike a desert cactus.
Water your Christmas cactus as soon as the top soil feels dry to the touch.
Humidity – Your Christmas Cactus Needs It
The epiphytic cactus thrives in high humidity environments, as lack of humidity can cause bud drop.
To provide humidity to your Christmas cactus in a dry climate or indoor climate, place a container of water near the plant, allowing the evaporated water to provide the necessary humidity through air movement.
Place the potted plant in a tray filled with gravel, then fill it with water to ensure proper drainage.
To enhance the humidity of your cactus, you can either mist it with water regularly or place it near a humidifier.
Plants should be relocated to a cool, dry area away from hot radiators or vents to maintain optimal humidity levels.
Do you water a Christmas cactus from the top or bottom?
Experts suggest watering Christmas cactus from the bottom to ensure they receive adequate water, as it soaks into their roots and reaches all of them.
Top-watering doesn't saturate soil as it trickles down from the top, limiting water reach to roots. It can also create a false impression of providing enough water to thirsty plants.
Bottom-watering ensures optimal plant growth by providing adequate moisture to all ends of the root system.
Water a Christmas Cactus from the base directly into the soil, allowing the roots to distribute the water to the rest. Mist the leaves for proper hydration, but it's not strictly necessary.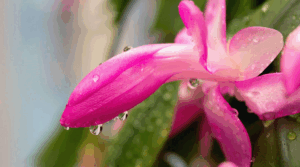 Hints:
Make Sure the Soil is Dry
To prevent over-watering your cactus, ensure the top third of the soil is dry before adding more water, and double-check by pushing your finger underneath the soil.
To water a pot, ensure the dirt is dry on top and a few inches, but not to the bottom. Once the top third of the soil is dry, water the pot.
Water the Soil
Pour water into the Christmas Cactus' pot from the bottom, ensuring it reaches its roots. Continue to water until it drips through the pot's bottom holes, soaking the soil.
After soaking the soil, ensure there's no standing water underneath the pot and dump excess water to prevent insects, root rot, or mold from forming. Place water in a tray underneath the pot, as long as it's completely separated from the pot.
Mist the Leaves
To maintain plant health, mist leaves with water in a spray bottle, avoiding drenchment. A quick mist is ideal for proper hydration, especially when watering the plant.
Christmas Cactus Overview
| | |
| --- | --- |
| Common Name | Christmas cactus, holiday cactus, crab cactus |
| Botanical Name | Schlumbergera x buckleyi |
| Family | Cactaceae |
| Plant Type | Succulent, cactus, perennial |
Final Thoughts
Water your Christmas Cactus from the base to fully hydrate its roots, ensuring it lasts several years and brightens up every holiday season with proper care and watering.