How long Does African Violet live?
What You Read in This Article:
Hide
African violet is one of the native plants of Tanzania and the tropical part of East Africa, as well as around southeastern Kenya. This plant was first identified by a person named Saint Paul. In This article, we want to discuss How long African Violet live so please be with us until the end of this article
The attractiveness of the African violet plant is not only because of its colorful and beautiful flowers but also because of its dark green velvety and fluffy leaves and its shape. In some African violet models, the edges of the leaves are white or lighter. This plant is sensitive and needs more care and attention until it finds its right position and continues its peaceful life.
| | | |
| --- | --- | --- |
| Species Name | Lifespan | Factors Affecting Lifespan |
| Saintpaulia ionantha | 3-5 years | Temperature, light exposure, over-watering |
| Saintpaulia confusa | 3-5 years | Humidity, soil quality, pests and diseases |
| Saintpaulia goetzeana | 3-5 years | Fertilization, pot size, air circulation |
| Saintpaulia pusilla | 3-5 years | Water quality, pruning, root health |
| Saintpaulia parvipetala | 3-5 years | Potting mix, feeding schedule, aging |
| Saintpaulia teitensis | 3-5 years | Light intensity, pest control, watering |
| Saintpaulia shumensis | 3-5 years | Temperature fluctuations, pot drainage |
| Saintpaulia usambarica | 3-5 years | Soil pH, watering frequency, temperature |
| Saintpaulia inconspicua | 3-5 years | Nutrient deficiency, lighting conditions |
The difference between different varieties of African violets is in the color and number of flowers. African violets are white, pink, crimson, purple, and purple are seen. Due to the indifference to the length of the day, the flowering of this plant occurs in favorable conditions and throughout the year. So there are some issues that we have to know about Live of African Aviolet so something like soil and Fertilizers and water are important and we will have a spread explanation in contentious parts.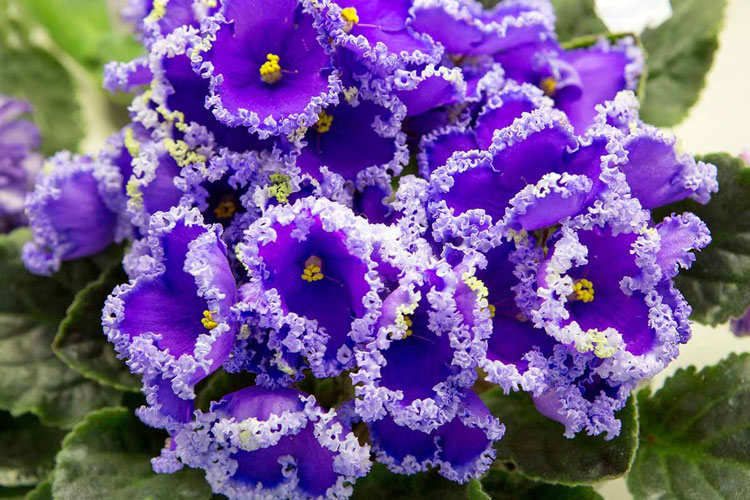 How to care for and grow African violets for living more
Here we can use the appropriate amount of water. Keep the soil moist and allow the roots to dry out a little before watering and encourage flowering by watering. At room temperature, start watering from the bottom and place a plastic sheet under the pot and let the plant absorb the water, But it takes time which would avoid pouring water on the leaves because it causes damage to the plants and for better use, try to feed the plant directly.
When the water given to the plant is too cold, the leaves of the African violet begin to curl, and watering this plant from above causes the leaves to become stained, which cannot be removed in any way.
Never use fresh water for this plant because fresh water increases the salt content in the plant and as a result, the pH and electricity of the soil are disturbed and the ability of the plant to absorb water and nutrients decreases, so if you have fresh water at your disposal, change it before using it for the plant, otherwise it is better to use a different water source.
Do not use chlorinated water to water violets, some chlorine is necessary for the plant's photosynthesis, but African violets need a very small amount of it, and as a result, excessive use of water with high chlorine causes leaf burn. And the plant does not flower. If your water is chlorinated and you have no alternative source, put the water in a container and let it sit out of the fridge overnight to dechlorinate.
Also, devices have been designed that water the plant when needed and do not need your care. These devices are usually inside the pot itself, and it is enough to give them enough water and they will find the right time to water the plant.
The amount of light absorbed by the African violet is very important in its health. They need soft to bright light, indirect and normal indoor light.
Like other plants, African violets must have light for photosynthesis, and its photosynthesis is mainly carried out by the green leaves and stems, which transfer carbon, oxygen, and hydrogen (in the form of carbon dioxide and water) and convert it into energy. It is used to convert, which is called carbohydrate.
[blockquote author=" College of Agricultural Sciences The Pennsylvania State University" link="https://extension.psu.edu/why-isnt-my-african-violet-flowering" target="_blank"]Too little light can cause of African violets not to bloom well.[/blockquote]
If the light does not reach this plant enough, it will stop flowering and its leaves will turn yellow, and insufficient light is harmful for this plant, and too much light will be troublesome for it.
Too much light can also cause brown spots on leaves or flowers. African violets will perform best if they receive indirect but abundant light.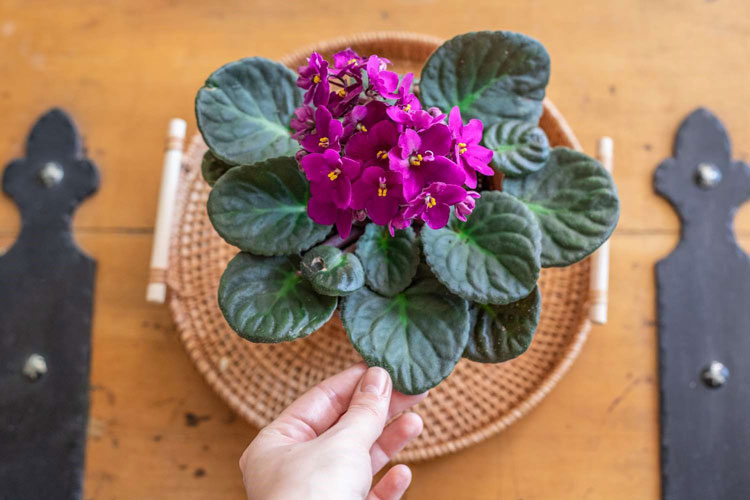 Although the African violet can tolerate direct light at the beginning or end of the day, it is better to create a shelter for it and best results, place this plant under a window that receives light throughout the day, especially a window that is exposed to western or southern light and you can even use a thin curtain to filter the sunlight.
Remember that the intensity and duration of sunlight varies in different seasons, and during the winter months the plant needs more light than usual, and it is also very important to rotate the plant so that both sides get the same amount of light. get an equal amount of light, if you don't do this, the leaves will bend toward the light and get bigger. So we should know all types of things that help us to grow this plant.
Temperature and air quality about African Violet live
Temperature, humidity, and air quality are important factors for the growth of African violets. If you provide these conditions in a suitable state for this plant, African violets will grow very well. Generally, it is better to keep the ambient temperature at 70 degrees Fahrenheit and allow Do not allow the temperature to reach below 60 degrees or above 80 degrees, and also do not place the plant in an environment where temperature changes are high.
The temperature difference between day and night for this plant should not be more than 10 degrees so that it can have good flowering.
If the weather is too hot, it will grow too tall and the leaves will dry up and the flowers will fall off little by little, so try to reduce the air temperature gradually and be careful as it decreases. temperature and air cooling, gradually change the frequency of watering so as not to damage your plant.
Too cold weather can also cause the death of these plants: these plants stop flowering in very cold weather, their growth slows down, and in severe cases, their leaves and flowers begin to wither.
So, in such cases, quickly move the plant to a warmer area and then separate the plant tissues that have darkened too much from them, which prevents the plant from rotting and watering and fertilizing for a while. Stop but keep moist. You can use the bag method by tying a clean plastic bag around the African violet pot with wire and if your plant survives, you will see the recovery effects in it after a few days. To further revive this plant, it is better to keep the bag on it for a week and after removing the bag, you should start the routine of watering and fertilizing.
Keeping the house humid will not be an easy task, but you should try to keep this humidity at least between 50 and 60%, and on the other hand, the most ideal humidity is between 70 and 80% for African violets.
To increase the humidity of this plant, you can plant a group of African violets next to each other. This will add 15% to their moisture content. Of course, these plants should not be so close to each other that their leaves touch each other. Although humidity is important, you must be careful to give the plants room to grow to prevent the growth of dangerous fungi.
[blockquote author="The University of Minnesota" link="https://extension.umn.edu/house-plants/african-violets" target="_blank"]African violets (Saintpaulia ionantha) are low maintenance, easy to grow houseplants. They reliably bloom several times a year when cared for properly.[/blockquote]
You can also use fumigation devices in winter. Of course, you should be careful that your humidifiers do not have air purification features because otherwise they will dry out the interior of the house, and you can also use cooling humidifiers in the summer season.
Another factor that affects air quality is to measure of the number of chemicals and gases in the air, for example, home electrical appliances or kitchen gas produce these substances, which can cause the leaves to turn pale and small flowers, to the extent that they turn brown or cause them to fall, and the best way is to keep your African violet away from exposure to these gases and chemicals, which not only affect the plant in the long term but they can also harm your body, so keep the plant away from your cooking area as much as possible.
Important tips to prolong the life and quality of keeping African violets
Prune faded blooms and old stems for extra growth
Keep plants away from the ground.
Do not forget that African violet leaves should not be wetted directly and spraying water on its leaves is not recommended in any way.
Choose the right pot for your beautiful flower because if the pot is bigger than the size of the plant, flowering will be delayed.
The suitable material of the pot for the African violet is a plastic pot because this plant is sensitive, a clay pot creates cold stress for it by absorbing cold.
The best time to change the pot of African violets is spring.
According to these points, we understood that the African violet can have a long life according to its conditions.
Knowing all the points raised in this article makes you consider that the more we take care of the African violet, we can witness its long life and we must pay attention to it because it is of great importance and attention It will not be without grace.

this infographic is taken from Whyfarmit
Check out more details about African violets
Watering is one of the most important points to consider for African violets. Examining light and heat, soil and flower volume is also one of the things that we should pay attention to.
Therefore, watering African violets should be done carefully.
We should also consider the right soil for the growth and longevity of the African violet. The soil can make African violets grow well and live longer. This is also important and it is of great importance and it will not be without grace that you should pay attention to it.
Fertilizing African violets is another thing that we should consider. The concentration of the fertilizer should be in a quantity that can have a direct effect on the growth of the African violet. This is also important and so we can consider it.
In general, irrigation and proper soil along with fertilizer can affect the life span of this flower.
What other things are needed for the growth and longevity of the plant?
Different things are needed in the growth of a plant. The first thing is that we must be well-trained to grow a plant. The point that you should pay attention to is that every plant like African violet has its quality. This is also important and of great importance.
Of course, you should keep in mind that the growth of a plant shows how long the desired flower and plant will live. The point that you should consider is that the relevant plant can grow well and have a long lifespan with proper irrigation, soil, and fertilizer. You should also pay attention to this.
Like other plants, African violets require care. In general, it will last for several years if it is properly cared for. This is also important and it is of great importance and it will not be without grace that you should consider it.
Many greenhouses also have African violets. But the necessary care will make the relevant plant and flower grow well. Their growth requires the conditions that we mentioned repeatedly in this article and you should keep it in mind. In general, taking care of plants everywhere is based on the use of proper fertilizer, proper soil, and proper irrigation. It is in this state that we can witness a long life for flowers and plants such as the African violet, and we must pay attention to it as well.
Conclusion
In this article, we investigated the issue. This was about how long African violets live specially we know that How long Does African Violet live. The important thing is that certain conditions help us to understand how long this plant can live. An important thing to consider is that the African violet plant has a lot of quality to it. The relevant qualifications will be based on its growing conditions, which should be considered by people when caring for this flower. Of course, you should know that all conditions should be taken into consideration. Another point is that we should note that the African violet flower needs proper watering, proper fertilizer, and proper soil.