How to hold up a Monstera plant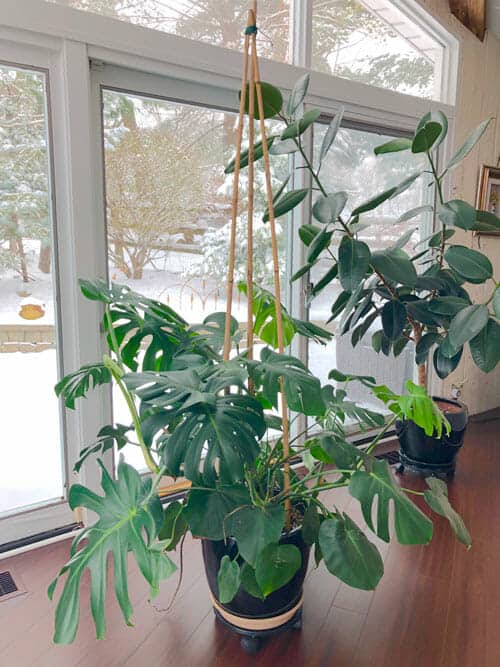 How to hold up a Monstera plant.Monstera is one of the most favorite plants in the world, almost everyone keeps one its species in their home, though it is toxic if you don't pay attention but it makes home very beautiful and also it absorbs Carbon Dioxide and releases Oxygen.
As Monstera grows it will lean to sides because it needs some support to go up, some people like it to have them grow to side but some people want them to grow upside and for doing it you need to help them to hold up.
Here in this topic we are going to talk about how we should do it.
Best choice when staking up a plant is to use three stakes, with three you will make a golden triangle in your container so it will give the best support.
First you need to hold up your plant to see how exactly it stands and where you need to put stakes. Start with observing the stem or stems of the plant and see which one is heavier and you need to support, bamboo stakes are better choice because they are light weight and very strong.
Also with that it is better to use garden twine rather than twist ties it is because it gives the plant a little bit more flexibility and it allow plant to continue growing.
The thing that you should pay attention is to be sure that you leave the relatively loose so that you are not constricting growth and not telling them to stop growing and not scaring them from growing, if you use twist ties and if you do it too tight your plant s might stop growing.
Choose a stake about the same height as the tallest stems but actually it is your choice to choose it shorter or taller.
Stick the stake in right along the heavy stem, stick it down all the way to the bottom till it touches the bottom of the container or pot you are using.
Continue doing so until every thick stem of the plant is supported so they can grow without trouble.
Now it is time to take the twine, cut off a few feet, start the bottom of any stake and loop a knot, start wrapping it around the stakes but on ever stake wrap the twine all the way around it before moving to the next one, bring the twine up and around each stake at an upward angle and continue until you wrap the whole stakes, meanwhile you can choose which stem you want to move closer to stakes.
There you have it, a nice and tidy Monstera plant.