September 30, 2023

Carol Klein

0
Christmas cactus light requirements
What You Read in This Article:
Hide
Discover the care methods for various Schlumbergera species, including the Christmas Cactus, Thanksgiving Cactus (zygocactus), and Easter Cactus.
Christmas Cactus Care Guide: How to Care for a Christmas Cactus
Schlumbergera, also known as the Christmas Cactus, is a small genus of cacti found in humid and shady areas of southeastern Brazil, including the costal mountain ranges. These unique cacti are epiphytic and epilithic, distinct from their desert-dwelling Cactaceae family members.
The Schlumbergera genus of cacti is renowned for their leaf-like stem segments, which connect and trail, and the unique shape of these segments helps distinguish the species or cultivar of the cactus.
Schlumbergera truncata and Schlumbergera russelliana are popular species for houseplants, resulting in cultivars like Christmas Cactus, Easter Cactus, and Thanksgiving Cactus. These names refer to the plant's flowering season and stem segment nuances. These variations are subtle, making them often sold together. Regardless of the month, the houseplant's red, pink, white, or lavender flowers create a beautiful display.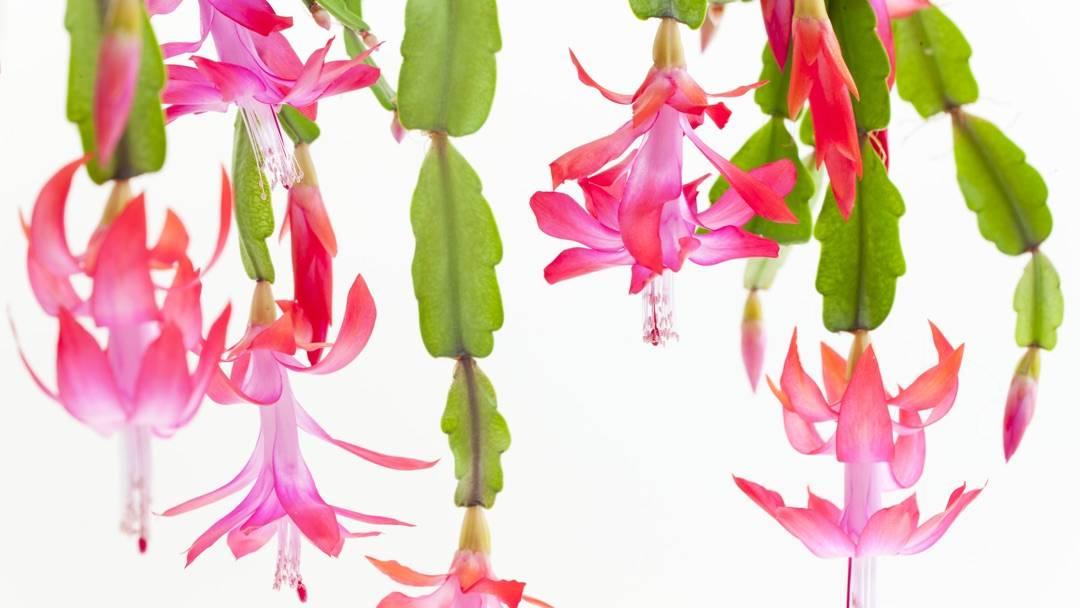 Christmas Cactus Care 101
How much sunlight does a Christmas cactus need?
Christmas Cacti thrive in bright indirect light, not direct sunlight. Extended periods of lower light in early fall encourage future winter blooms, but not for long periods.
How often should you water a Christmas cactus?
Water your Christmas Cactus every 1-2 weeks, allowing the potting soil to dry out halfway between watering. Water more frequently in brighter light and less in lower light. They benefit from higher humidity during bloom, so keep a humidifier nearby or place them on a pebble tray.
To ensure your Schlumbergera cactus' health, use filtered water or leave it out overnight before watering to avoid sensitivity to high calcium content water.
Do Christmas cacti need humidity?
When in bloom, Christmas Cactus thrive in higher humidity, so keep a humidifier nearby or place them on a pebble tray.
Are Christmas cacti easy to care for?
Christmas Cacti are generally easy houseplants but there are some common problems you can look out for:
SYMPTOM: Mushy leaves or black stems
CAUSE: Overwatered
SYMPTOM: Wrinkling leaves, dry potting soil
CAUSE: Thirsty plant, underwatered
SYMPTOM: Blooms dropping
CAUSE: Fluctuations in temperature, cold drafts, or roots drying out or becoming water-logged
Are Christmas Cactus safe for pets?
The Christmas Cactus are non-toxic and safe for pets, but it's best to keep them out of reach of small children and curious pets to ensure their safety.
Christmas Cactus Care Tips for a Thriving Plant Year After Year
Discover the strategies to maintain the cactus's continuous growth and blooming.
The Christmas cactus is a native plant from the Brazilian rainforest known for its festive flowers, which bloom during holidays. With proper care, it can bloom at other times and live for years. The orchid-like flowers bloom in red, pink, purple, orange, and white. It requires different care than other indoor cacti.
The Christmas cactus is a native plant from the Brazilian rainforest known for its festive flowers, which bloom during holidays. With proper care, it can bloom at other times and live for years. The orchid-like flowers bloom in red, pink, purple, orange, and white. It requires different care than other indoor cacti.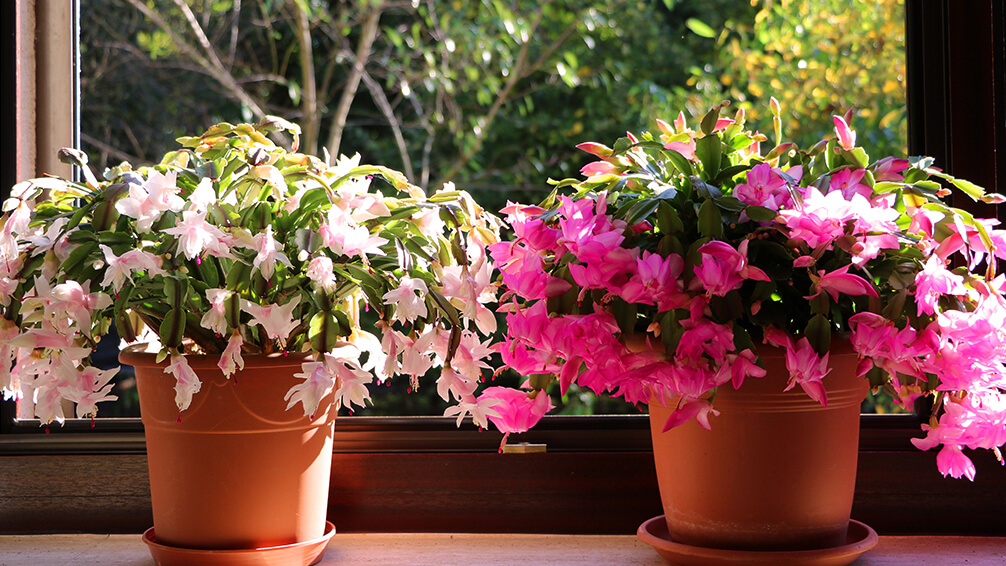 Christmas Cactus Overview
| | |
| --- | --- |
| Genus Name | Schlumbergera |
| Common Name | Christmas Cactus |
| Plant Type | Houseplant |
| Light | Part Sun |
| Height | 6 to 12 inches |
| Width | 1 to 2 feet |
| Flower Color | Orange, Pink, Purple, Red, White, Yellow |
| Foliage Color | Blue/Green |
| Season Features | Fall Bloom, Spring Bloom, Winter Bloom |
| Special Features | Good for Containers, Low Maintenance |
| Propagation | Seed, Stem Cuttings |
Christmas Cactus Care Tips
By following proper Christmas Cactus care, you can ensure the plant's continuous growth and blooming indoors.
Light and Temperature
A Christmas cactus thrives in bright, indirect light, but should avoid direct light during summer when the sun's rays are stronger and can burn the leaves. Stems turning reddish-purple indicate too much sun, while plants become thin and spindly. They thrive in cooler temperatures between 60-70℉ and should be kept away from radiators and fireplaces. During warm summer months, they can be grown outdoors in a sheltered, part-shade location, but should be brought indoors before temperatures drop below 50℉.
Water and Humidity
Watering Christmas cacti is crucial for their growth and health. They require weekly watering in spring and summer, starting in early October and continuing until flowering stops. During flowering, maintain even moisture. After flowering ends in January, a twice-monthly watering schedule is recommended to avoid overwatering. To maintain higher humidity, consider using a humidifier or placing the plant on a tray of pebbles with water just below the rocks. This method helps increase humidity around the plant.
Fertilizer
Christmas cactus care involves a monthly dose of liquid fertilizer at half strength during active growth from late winter to late summer. It also benefits from micronutrients, particularly magnesium, which can be provided by mixing a teaspoon of Epsom salts into a gallon of water.
Learn more:
Homemade fertilizer for Christmas cactus
Benefits of eggshells for Christmas cactus
Pruning
Pruning is usually unnecessary for overgrown Christmas cactus, but removing faded flowers can encourage continued blooming.
Potting and Repotting
To repot a Christmas cactus, mix 3 parts regular potting soil with 1 part cacti and succulent potting mix for extra drainage. Ensure the container has drainage holes to prevent rot. Repot the plant every three years as it flowers better when pot-bound, and every three years as it begins to grow again.
Pests and Problems
Stems that soften or yellow are indicative of too much water, and it is essential to ensure the soil is well-drained and potted in a container with drainage holes to prevent root rot. Stem wilting or wrinkling can indicate the opposite problem of not enough water. If the cactus is wilting or wrinkling, give it a full drink of water and avoid letting it get too dry again. Insufficient light and water before early October can cause flower buds to fail to develop and bloom. Bud loss can also occur if the plant doesn't get enough humidity or has too much water. Avoid moving the plant during this time to avoid stressing it. Houseplant pests like mealybugs, spider mites, and scale can attack Christmas cacti, and a strong spray of water can dislodge most bugs.
Christmas Cactus Requirements for Blooming
Christmas cacti require specific lighting during their flowering season to help set buds. Sleep cycles are crucial for plants, as they require 12-15 hours of complete darkness per day. To initiate this process indoors, count back eight weeks from the desired blossom date and place the plants in a dark room with a grow light on a timer for eight weeks. Once buds have set at the tips of the leaves, place the plant back in its usual spot. With the right care, Christmas cacti typically bloom in late October to winter (around January). Throughout the flowering season, the plant will continue to set buds and bloom, but in January, it will begin to wind down until the following year. However, sometimes, buds may appear again.
Types of Christmas Cactus
Schlumbergera x buckleyi, also known as zygocactus or holiday cactus, has scalloped leaf margins and satiny flowers dangling from segmented stems. True Christmas cacti bloom in mid-December, but many sold as Christmas cacti are actually Thanksgiving cacti.
'Madame Butterfly' Christmas Cactus
This rare variety of Schlumbergera has cream-color variegated leaves and magenta flowers with white centers.
Schlumbergera truncata blooms several weeks earlier than Christmas cactus. It has two to four pointed teeth along the margins of stem segments.