December 7, 2021

PIGII

24
What is The Lowest Temperature Begonias Can Tolerate?
What You Read in This Article:
Hide
What is The Lowest Temperature Begonias Can Tolerate? Hello plants lovers welcome to another topic about plants and especially Begonias.
In this article we are going to know what is the lowest temperature that Begonias can tolerate and what temperatures you need to keep your plant to have the best results.
Chill Out with Begonias: Unveiling the Surprising begonia cold tolerance!
Begonias, which are frequently thought of as delicate flowers, can surprise you with how well they tolerate the cold. Many begonia cultivars can endure chilly weather and even flourish in colder climates, however some are more sensitive to frost and low temperatures. Begonias can endure temperatures as low as 32°F (0°C) for brief periods of time, and some hardier varieties can even withstand temperatures as low as 40°F (4°C). The precise cold tolerance of begonias might vary based on the species or variation, as well as other elements like moisture content, length of exposure, and general plant health. Begonias' ability to withstand cold temperatures can be increased with the right care, which includes mulching, providing insulation, and preventing excess moisture during cold spells.
What is The Lowest Temperature Begonias Can Tolerate? how cold can begonias tolerate?
Daytime temperature around70 degree Fahrenheit and 60 degree Fahrenheit overnight is preferred by these plants.
Temperatures lower than mentioned ones might damage the plant and prolonged colds can severely damage the plant and in some cases it can kill it.
begonia temperature tolerance is suprising!
In the list Below We have provide the begonia temperature tolerance with species seperated.
Note that these temperature tolerances are general guidelines and can vary depending on the specific growing conditions and climate in which the plants are grown. It's always best to monitor your plants closely and make adjustments to their care routine as needed.
| | |
| --- | --- |
| Begonia Species | Temperature Tolerance |
| Begonia bowerae | 60-80°F (16-27°C) |
| Begonia dregei | 50-60°F (10-16°C) |
| Begonia goegoensis | 70-80°F (21-27°C) |
| Begonia grandis | 50-75°F (10-24°C) |
| Begonia heracleifolia | 60-75°F (16-24°C) |
| Begonia masoniana | 55-75°F (13-24°C) |
| Begonia metallica | 60-75°F (16-24°C) |
| Begonia obliqua | 55-75°F (13-24°C) |
| Begonia rex | 60-75°F (16-24°C) |
| Begonia semperflorens | 65-75°F (18-24°C) |
Essential Tips for Protecting Begonias in Cold Weather!
Cold was always a big threat to plants, some plants may endure the cold and some of them die really fast.
Begonias are one of the kind that cannot live in temperatures near freezing cold and if you don't act in the right time the plant will die very fast.
Because of their build, they have cells in themselves in stem, leaves and flowers and if they freeze, it will rupture the cells and kills the plant from inside.
You can either cut them down and store them so you can plant them next year, click here to see how, or if you are keeping them in pots you can easily transfer them inside the house to keep them from freezing, but you still need to pay lots of attentions so they can stay healthy and protected.
[blockquote author="UF|University of Florida" link="https://edis.ifas.ufl.edu/publication/EP632″ target="_blank"]In fall or winter, especially in colder hardiness zones, many cultivars stop growing and might even drop their leaves and enter a dormant state.[/blockquote]
Here are some essential tips for protecting begonias in cold weather:
Ensure Adequate Insulation: Cover your begonias during chilly nights or frosty periods with blankets, clothes, or frost cloth. To prevent cold air from penetrating and harming the plants, make sure the cover is completely covering the ground and is fastened with pegs or weights.
Applying mulch at the base of your begonias will assist preserve heat by insulating the soil and preventing evaporation. Materials like straw, wood chips, or leaves might be used for this. Mulching can also aid in preventing soil penetration by frost, which can harm a plant's root system.
Avoid Overwatering: Cold weather can cause slowed evaporation, resulting in soggy soil that could harm the roots of the begonias. During colder months, make careful to change your watering plan to prevent overwatering. In order to avoid too much moisture surrounding the roots, let the soil slightly dry out in between waterings.
Move Begonias Indoors: To safeguard potted begonias from freezing temperatures throughout the winter, try to move them indoors if at all possible. Put them away from chilly drafts and heating vents in an area with adequate lighting and ventilation.
Trim and Remove Damaged Foliage: Trim back any damaged or dead foliage on your begonias before the arrival of winter weather. As a result, there will be less chance of illness or pest infestations over the winter and the plant will be able to focus its energy on growing healthily.
Monitor Weather Forecasts: Stay updated with weather forecasts and be prepared to take action if temperatures are expected to drop significantly. Having a plan in place and being proactive in protecting your begonias from cold weather can greatly increase their chances of survival.

Are they going to grow back next year?
Begonia plants will not grow back each year, because of that you need to replant them every year.
Because these plant are not okay with cold temperatures, before replanting them it is better to wait a week after final frost to plant them so you can be more sure that cold would not harm them.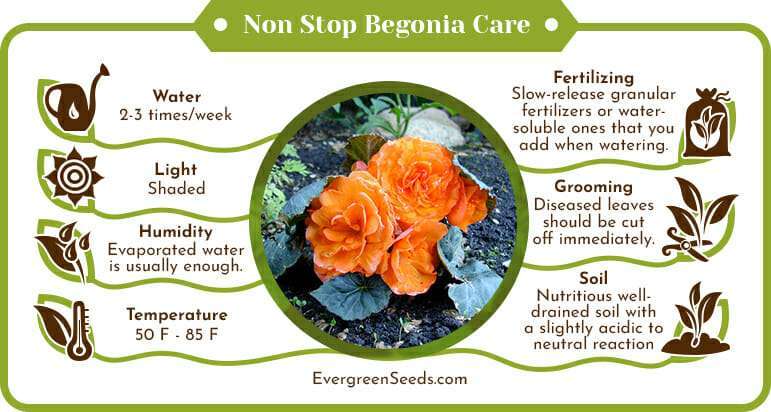 this infographic picture is taken from evergreenseeds.
How long do Begonias live?
It doesn't matter if they are potted or not, they have 2 to 3 years, life span, even if you do a great job taking care of them even in the best possible conditions, these plants would not last more than 3 years.
What is the best fertilizer for Begonias?
These plants are heavy feeders so in order to make them flower really good, you need to feed them with good fertilizers every two weeks. It is recommended to use high nitrogen plant food with 10-10-5 formula early in the season.