December 15, 2021

PIGII

22
What to Plant with Begonias in Hanging Basket?
What to Plant with Begonias in Hanging Basket? Welcome to another topic about plants and especially Begonias.
Here in this topic we are going to talk about what other plant species you can plant beside your Begonias in Basket.
Begonias are well known flowering plants for hanging baskets. These plants add amazing view with their beautiful flowers to the garden or wherever they are planted.
Although planting only Begonias in pots or baskets is enough to bring beauty to that place but with adding other plant species, which we are going to talk about them in a minute, can add extra beauty to the sight.
Plant species that you can plant with Begonias
Here are 5 plant species that you can plant with your Begonias and enjoy their beauty, so without further ado let`s get in to it.
Peppy Shade
Orange purple and yellow, alone are amazing color combination in the garden. Begonias and perennials combination will absolutely stun you with its beauty when planted.
Birch Double Cranesbill is first plant in this Peppy Shade combination these beautiful plants reach 18 inches in height, this plant will flower throughout the summer and early fall.
This plant combines with Lakeside Paisley Print Hosta, which grows low only to 12 inches tall and when these two combine with Orange Double Begonias, you cannot stop looking at the plant, Orange Double Begonias bring the biggest splash of color because of their large blooms that go throughout the summer.
Twilight and Light Shade
In the Fashion industry using contrasting colors is very popular for example they are using black and white in their designs and it looks beautiful, in the gardening we have the same thing, the light colors stand up against the deep purple gives the plant and garden 3D effect.
In this combination we are going to use chocoholic Snakeroot, this plant grows tall and it is narrowed shape with the height of 4-6 inches. This plant likes shaded environment where the color of the leave can stand out.
Next we have Bouton de Rose Begonias with white and pink blooms will definitely catch your eye. Plant thee of this Begonia tubers for every one Chocoholic Snakeroot for the best result.
Golden Glory Shade
White and gold are very luxury colors that we all enjoy having an item with color of one of them or even combined.
In this one we will use Yellow Double Begonias and White Double Begonias, typically you can fit 3-5 Begonia tubers in a 10-12 inches planter, it actually depends on how fully you want your plant to look.
If you want to have green, white and gold combination, plant Candidum Caladium and Color Festival Hosta for the unique appearance that you looking for.
Red, White and Blue Shade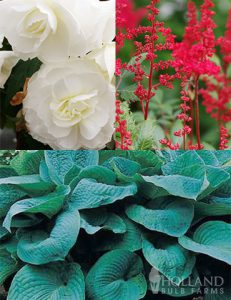 Red, white and blue color combination is considered as a traditional appearance because we see this combination in so many country flags like America, France, Costa Rica, United Kingdom, Chile and other countries.
First for blue look we have to plant Big Daddy Hosta which sets the stage for this combination, then we have Fanal Red Astilbe with red blooms and green/red leaves will look so good after the Big Daddy Hosta.
For the for ground of this combination we have White Double Begonias which will complete the traditional color combination that you can enjoy watching it.
Ferns and Begonias Collection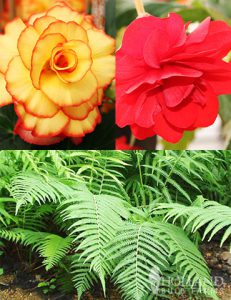 Last but not least we are going to use Lady Fern for amazing backdrop for the big blooms of Begonias, you can use this combination which is Apricot and Scarlet Begonias with Scarlet Double Begonias as you can see in the picture combining these species will give your garden or Basket pot amazing look and gives perfect shady garden plant combination.